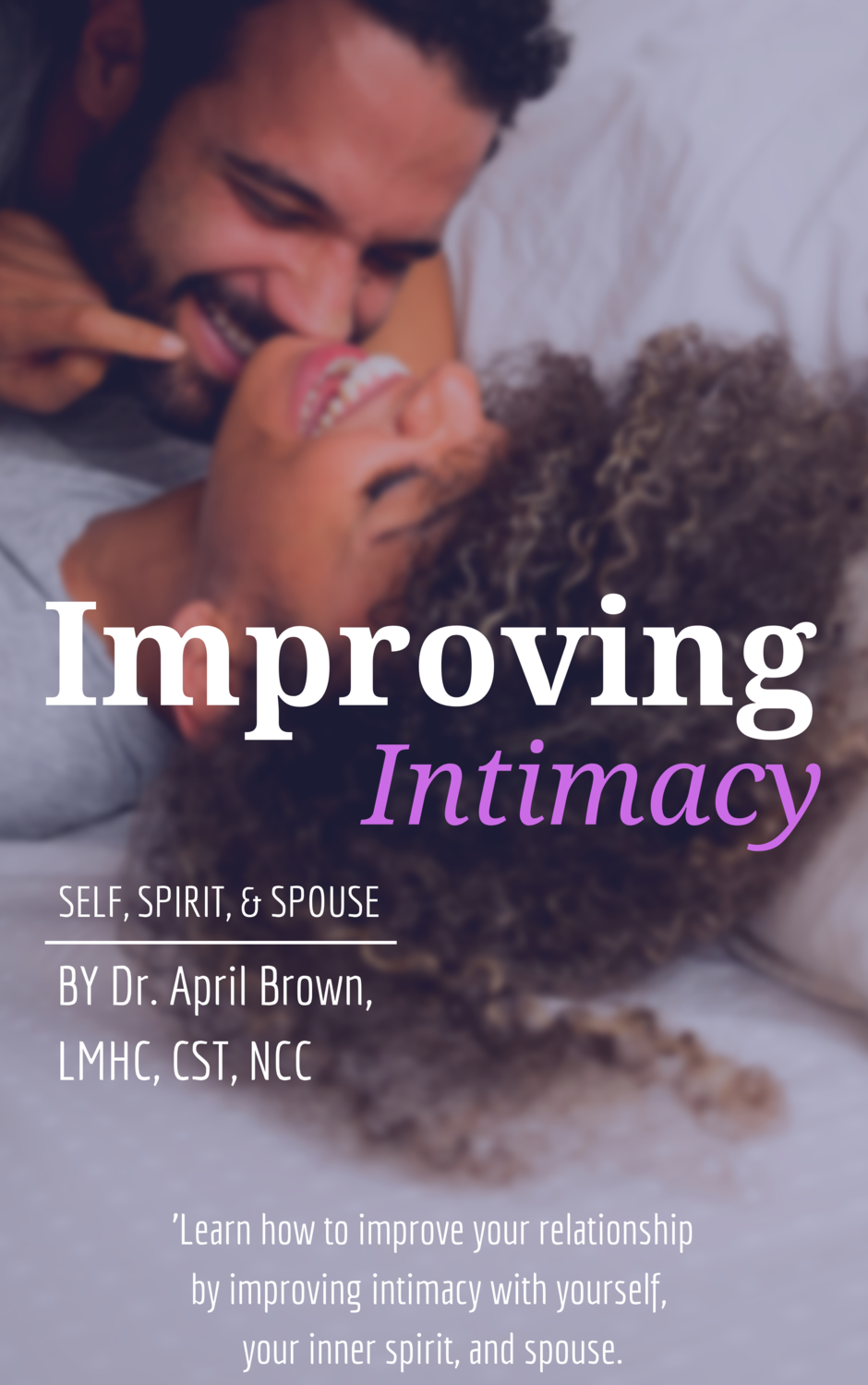 Improving Intimacy: Self, Spirit, and Spouse
SKU 00016
Product Details
Are you searching for ways to improve intimacy with your significant other? Are you currently feeling at a loss of where to start? Maybe your schedule doesn't currently allow you to read a full size book on intimacy and relationships, but a quick read of quick solutions could help?
If you answered yes to any of these questions, then this short & sweet eBook series is for you!
Improve intimacy with your partner by improving yourself, your spirituality, and ultimately, improving the outcome of your life. Your relationship will speak for itself in the end!
This Improving Intimacy eBook series is brought to you by the well-respected Dr. April Brown, founder of Bringing Intimacy Back. In this premier eBook, the first of a seven-book "teaser" series, you will learn about a number of research-backed, proven ways to quickly and authentically improve intimacy with your significant other.
Now more than ever, there is no doubt that we are disconnected from not only our partners, but ourselves. We're distant from friends and family, spending the majority of our energy at work, at dead-end jobs; depleting ourselves within places and in front of faces that don't truly align with our personal values.
In the rush of today's world, amongst life-altering crises and daily conflict, it can be presumed that we have become disconnected from those personal values, who we truly are, and how we want to exist in the world.
Intimacy should be recession-proof, and rather, thrive most in the face of crisis.
Did you know? As a result of the COVID-19 pandemic of 2020-21, we are experiencing:
A new level of loneliness
Depression
Painful interrelationship conversations due to job loss, finances, uncertainty, and death
Lost passion
And as a result, less sex...or at least, less of the fun kind
All of which are wreaking havoc on our otherwise strong, stable marriages, lusty newlyweds, & our families. The interpersonal results are devastating, a crisis in itself. As a result, we are seeking answers from our racing daily thoughts, stirring with confusion, anxiety, & as a result, mindlessly distancing ourselves from loved ones.
With the Improving Intimacy eBook series, you will learn how to shamelessly bring back the passion in your relationship.
Dr. April Brown uses only the best, most reliable research and professionally tested methods to guide you back to intimacy by explicitly defining:
Self Intimacy
Spiritual Intimacy
And some of the greatest forms of partner intimacy
How to communicate vulnerably and thus, more effectively
The secret equation to priceless, hypnotic sex
And best of all, an immeasurable number of little big ways to improve intimacy today
Intimacy is not taboo, nor should it cost a fortune. Dr. April Brown has put together this invaluable & inexpensive seven-book eBook series that is easy to understand yet profoundly impactful.
Do not let your circumstances plague your relationship any longer. Give this first book a try and you'll see exactly why you should come back for the second...and third…
Bonus: Here, you will also find an extensive list of Dr. April Brown's intimacy, relationship, vacation counseling and self-intimacy coaching services & much much more.
Welcome to Bringing Intimacy Back's Improving Intimacy eBook series; where intimacy is real & well within your reach.
Look forward to the FULL Improving Intimacy eBook series:
1: Improving Intimacy: Self, Spirit & Spouse
2: Improving Intimacy; Self Intimacy
3: Improving Intimacy; Spiritual Intimacy
4: Improving Intimacy; Great Sex
5: Improving Intimacy; Everyday Expressions
6: Improving Intimacy; Intimate Connections with Your Parents as Children
7: Improving Intimacy; Intimacy with Friendships & Community
8: Improving Intimacy; Intimate Connections in Business Across A World of Cultures
Save this product for later